No this isn't clickbait.
But at the same time achieving this goal was never simple, easy or something that happened overnight.
It took months of preparation creating a product from a process we use internally at @VerifyBee to solve our critical SEO dilemmas.
The journey that we took to solve these problems and bring about our elegant solution to the world is what brought to life @BacklinkSEO.
You could ask, "so what's so special about this?" You had an issue, you solved it and you made a new product out of it. So?
What if I told you, we took our process that we used to grow VerifyBee to over 25,000 users a month. Then we packaged it, saved money on all our other SEO subscriptions, automated hundreds of hours of manual SEO work, and created more sales and traffic in the process. We then took that package, essentially now a new software and called it BacklinkSEO and we brought it to market.
But guess what, we still weren't sure we were on the right path.
Startups usually face a few major concerns as they start to formulate their identity.
Are we solving an actual "problem" and is it the "correct" one
How will we gain users? Ads? Organic? Referrals? Outreach?
How will we fund this if we cannot generate MRR fast enough?
And these are some really pressing concerns. I am going to walk you through how we solved #3 for our SEO startup BacklinkSEO.
Your community is the backbone of your success.
When we started we didn't have a community for BacklinkSEO. We leveraged our VerifyBee Community, but that was nowhere near enough for the momentum we wanted to achieve.
One of the biggest blessings, secrets or key ingredient to our success if you want to call it that has been the LTD community.
What is an LTD?
LTD stands for Lifetime Deal, it is an offer for a product or service with a pay-only-once price tag which gives you benefits, updates and access for life. Usually offered to early adopters putting in their trust into a company, helping them align product-market fit and beta testing features. It is a win-win arrangement in most cases. Users get access to the software as its maturing, they help guide its development, they invest time AND money and in return get LIFETIME access without ever having to pay again.
Will an LTD help my Startup?
Now, this is a loaded question and not something we want to get into during this article but for us, our LTD was exactly what we needed to fund development, research and bring our vision for BacklinkSEO to life. Does it always work out this way for all startups, actually no it doesn't. Many startups do LTDs with platforms that take 50-70% of their revenue! This leaves founders with hundreds of customers, almost no cash on hand, fielding thousands of support tickets and feeling totally burned.
What is the best LTD platform?
While there are many LTD platforms out there choosing the right one (we believe that is DigitalThink more on that later..) can make it or break it for your startup. We did a ton of research, had hundreds of conversations and then made our decision. Sometimes the offers we got baffled us! Here is one example of the revenue cut we were offered for OUR product.
If you think it's a fantastic idea to give up 75% of your revenue, this isn't monthly this is YOU giving lifetime access to your product and then giving away 75% of all money earned to the marketing platform. Let's let that sink in a bit.
How much do I need to sell if I do an LTD with Appsumo?
To make the amount we made $130,000 we would effectively need to raise 4x the amount if we do some simple math.
That's $520,000 in sales needed on the appsumo platform. They would have taken 75% which would be a total of $390,000 leaving us with $130,000. Now, what would that mean for us? More revenue, more users better for us right? Wrong.
We would be making 300% less in our funding effort, would have 3x more users to support, 3-4 times more infrastructure cost to sustain and possibly thousands of more support tickets to manage.
Now, appsumo is great for those who want well anything mentioned above. There are many who see value in their approach but let us reiterate there are better options for your startup! Let us introduce you to DigitalThink.
Why we chose to do our LTD with DigitalThink!
Mohamed Ali, the founder of DigitalThink and the mastermind behind the ever-growing DigitalThink LTD community and the Rocket Deals community has been a great support and guiding light in our journey. So why did we choose to go with DigitalThink?
We had a simple idea, a more crude version of BacklinkSEO that I, Abdul Mukati, pitched to Mohamed a few months earlier. He was the one person that kept it honest, straight forward and blunt with me and told me "this where it is at today will never work, it doesn't provide value to the community". My self and the team went back to work, although we thought we had created something that solved our problem it didn't necessarily seem like a universal SEO problem that needed solving.
A month or two later I was back talking with Mohamed about all the amazing updates and enhancements we had made. He was impressed by our speed and promised to take another look. Now, this is what we needed, someone as invested in our product as we were. This time he was blown away and I could hear the excitement in his voice as he spoke. He gave us a few more suggestions and we started talking pricing.
So does DigitalThink Take 50% to 70% of revenue?
No, they don't. And actually, they don't even take 40% or 30% or even 20%. Now how much do they actually take depends on your agreement with DigitalThink but its in the realm of 10-15%. Now, this is not only fair it's generous of them!
The DigitalThink community is 5,000+ members and growing while the rocket deals community is almost 2,000 members and growing! Combined this provides a powerhouse of users and a very loyal community.
When we started we didn't have a community of our own, but as users began to purchase our LTD they wanted a place for separate updates, conversations and a place to provide suggestions and feedback. We created the BacklinkSEO Facebook Community which is now over 600+ members strong!
How much did you actually raise with DigitalThink?
It's not as easy as the headline of this article might make it seem. So let's get the official stuff out of the way before we dive into the nitty-gritty of it all.
Officially $131,300 gross revenue and here is the pudding.
So $131,300 from 446 customers that's around $294 per customer on average. Which is fantastic, however, we did have affiliates helping us sell our deal to their audiences.
Does having affiliates help with sales?
Absolutely! We paid our affiliates 20-25% of each sale! We started with a 20% distribution and increased that to 25%. The affiliate community works hard in helping propel your product in the limelight, to different audiences and even helps answer pressing questions when you and your team are not available. Yes, we do have to sleep after all!
Some Affiliates are leaders within their own communities and will work to help shoot amazing videos and walkthroughs of your product. Here are a few examples from our BacklinkSEO launch.
BacklinkSEO WalkThrough by SaaS Master
BacklinkSEO Walkthrough by Alston Anthony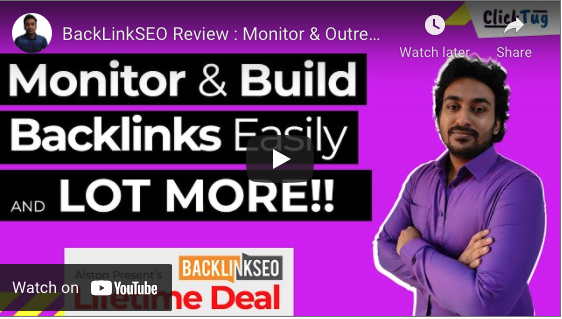 If you want to see the power of affiliates first hand take a look at our ThriveCart dashboard, the cart we used during the Lifetime Sale process. Do keep in mind DigitalThink was an affiliate in this case as well so all DigitalThink sales are counted in this average.
Now take a look at the percentage of sales from affiliates that is 62% of all our sales! The power of affiliates is immense and if anyone says otherwise well the data is above. Now we knew these facts going into the Lifetime Deal and we asked for support, Alston and Jorge as well as DigitalThink and so many other affiliates have been the backbone of our LTD success.
How should I price my LTD Offer?
Again this alone could be an article in its own right but let me walk you through our pricing. We had 4 main tiers and 2 hidden ones.
Solo - 59
Startup - 149
Business - 279
Agency - 499 (Incentivized future upgrades)
Agency 2x - 999 (Hidden)
Agency 4x - 1799 (Hidden)
The first step was to keep it simple 4 main choices, those who wish to upgrade higher than agency can do so at any time. However, if they do 4x agency during the LTD deal they would get $200 off. Anyone who purchased agency had an opportunity to upgrade anytime after the deal to a higher agency plan. These were some built-in incentives!
We ensured that each plan above was a no brainer deal than the plan before it. Our goal was to make sure we were also pricing as best as we could that provided users with the most value for the least amount of cost.
As an SEO tool, we have tremendous data and server costs, there is a fine line between providing low prices and ensuring sustainability. This was something we worked alongside DigitalThink to make sure all sides would be happy with the deal. Our goal was to make this a no brainer for our users, a great funding raise for us and a successful launch for us and DigitalThink all objectives which we believe were achieved.
Who are BacklinkSEO LTD Users?
BacklinkSEO LTD users are legendaries, pioneers, friends and now family. They are our most vicious supporters, our fiercest critics and our closest friends. They put their money where their mouth is and invested in our dream. They helped us in ways you can't imagine but let me try and list a few ways the same LTD community could help your business.
Get honest feedback when you need it most.
They help you align product, problem and market fit.
They become your fiercest and loyal advocates.
Ask them and they will be your biggest affiliates for MRR growth.
They will help review and write content on your SaaS and their experience. BacklinkSEO Reviews on Capterra
They become your beta testers
They become your insight into the customer mind.
What LTD Customers are NOT
They are not your MRR customers and might never be
They are not your direct B2C customer base
They should not be your ONLY roadmap driving force
They are not the same group as your target market for MRR in most cases
They are not your test subjects, they are your founding supporters never forget that and give them the respect they deserve and then some more.
How can I launch an LTD for my product or SaaS?
Launching an LTD might not be ideal for everyone or for every product or business. There are lots of factors that go into their decision especially your ongoing costs play a major role in this decision. Understanding your sustainability, growth and R&D needs beforehand is critical. If you are looking to have a conversation feel free to reach out @abdulmukati. I would love to help you launch an LTD, connect you with those I have worked with so you could launch an even more successful LTD if your product is great 🙂
Where is BacklinkSEO off to now?
We have been focusing a lot on our promises and our MRR. For us MRR is critical and we have been doing everything from content marketing to ads and are finding relative success. However, we do have a long way to go in order to grow to where we wish to be. This LTD has allowed us to onboard almost 500 customers and our goal is to add another 500 MRR customers these coming months.
Where did you spend the 130k?
Well, this is a loaded question and one we plan to answer in our next article. Have we spent it all, actually a lot of it yes! Does that mean we will have another LTD no we don't have any plans for that. It just means we have spent a lot to ensure we are making money, growing our data and our team so that our users can have a stellar product. We have also acquired another new upcoming SEO software as well called KeywordBin and we have some crazy plans for that as well. As we grow we are investing in our teams, development, support and our vision.
Are you a SaaS or business owner, aspiring founder or just looking for ideas to help grow your business? Sign up for updates and content here.